Category:
Health & Fitness
I've been meaning to post about my latest CrossFit experience. As you know, I started CrossFit last summer with Alamo CrossFit. I really enjoyed it but unfortunately, I only did it for 3 months. The location wasn't convenient to my home or office location.
Recently, I received an email from Dennis Boline (fellow Racker and the person that got me into CrossFit) about a free all women CrossFit workout with Emily Van Vleck, CrossFit trainer with Elite CrossFit. Elite CrossFit works out at the University of Incarnate Word, centrally located in San Antonio.
What was this free workout all about? Well, Emily was turning 24 and to celebrate her 24th birthday, she wanted to offer a free CrossFit work out to women only. What a brilliant idea! It was a Saturday morning in March so the weather was perfect. Women showed up from all over the city. She grouped us by level of experience and in heats. For each level, there was a male trainer there to spot you.  Here was the work out:
WORKOUT (these weights are for Level 1):
400m walk/run/jog
24 step ups onto a 12′ box
24 push press with a 25lb bar
24 dumbbell swings with a 15lb dumbbell
24 burpees
24 walking lunges with a 10lb plate held overhead
400m walk/jog/run
I know it doesn't look difficult but you're going for a time. I was coming out of my winter hibernation so I have to say, I was a bit out of shape. They took photos and here is one of me being super dramatic: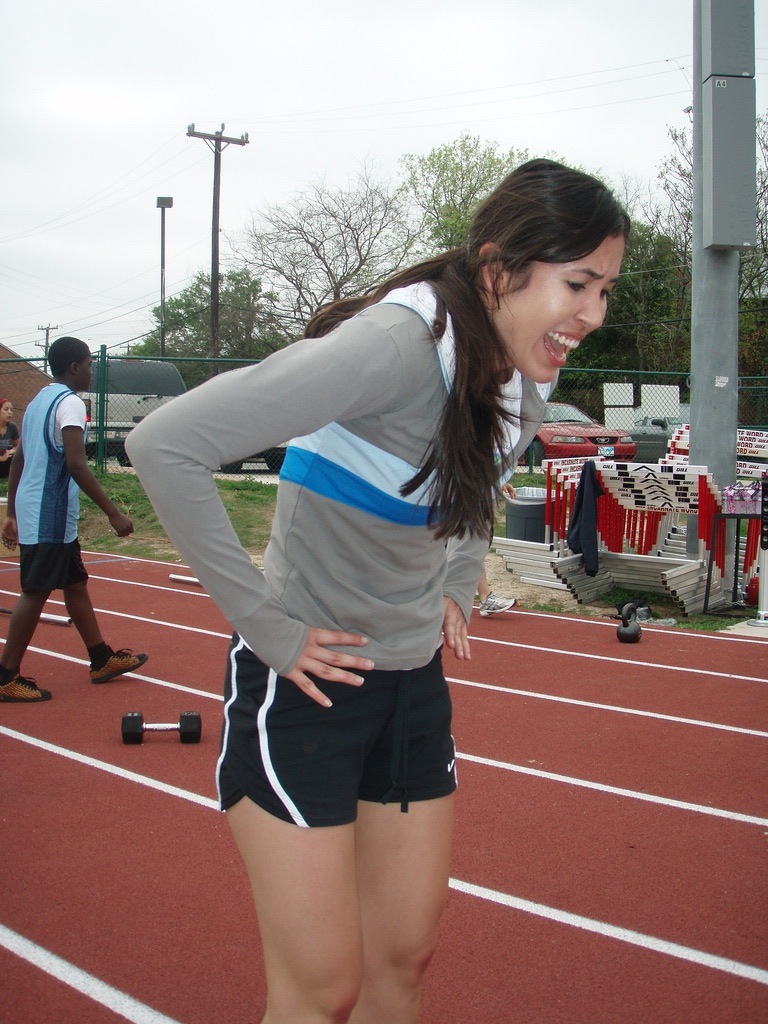 Emily was so awesome and I commend her for a job well done. She had t-shirts made, had branded water bottles and everything was super organized. Emily is actually from northern California, but has been living in San Antonio since 2004. She came to UIW for synchronized swimming and was team captain, All-American and three-time member of the USA National Team. She is currently the Assistant Coach of Synchronized Swimming at UIW. You can read more about her here: http://elitecoaches.blogspot.com/
I just received an email from her about a Summer Boot Camp she will be running. It sounds super awesome. Here are the details:
UIW Summer Bootcamp Program
Learn how to truly gain a level of fitness you have never experienced before. You will perform skills and exercises that will improve the 10 areas of fitness: AEROBIC ENDURANCE, STAMINA, STRENGTH, FLEXIBILITY, SPEED, POWER, COORDINATION, AGILITY, BALANCE and ACCURACY!
Class Times:
May 17, 2010- August 13, 2010
Monday- Wednesday-Friday
6:00am-7:00am, or
12:00pm-1:00pm
Monday-Tuesday-Thursday
5:00pm-6:00pm
UIW Summer Bootcamp Program Fee: $275.  A savings of $175!!!
Click here to sign up: https://clients.mindbodyonline.com/asp/home.asp?studioid=6898
This is a killer deal! I highly recommend going to Emily. It's things like this that will help transition San Antonio into a healthier city.
Next Page »